POTUS/FLOTUS test positive for Covid-19; if you decide to read about something else, begin with this list:
• We Can Protect the Economy From Pandemics. Why Didn't We? A virologist helped crack an impossible problem: how to insure against the economic fallout from devastating viral outbreaks. The plan was ingenious. Yet we're still in this mess. (Wired)
• Blank-Check Companies: Be Careful Nikola is not the first 'SPAC' to emerge in an explosion of 'strategic' IPOs in 2020. Here's what investors need to know. (Morningstar)
• Goolsbee: Big Companies Are Starting to Swallow the World: The exuberant rebound of large companies while their small competitors struggle will require more vigilant government antitrust action than ever before, an economist says. (New York Times)
• Madoff Clawbacks Point to a Recipe for Fairness: They are not actually investment profits, if they are merely the proceeds of a financial crime.  (Bloomberg)• What Does the Rolling Stone and Billboard Deal Mean for Music Fans? For one thing, music media may be becoming more like the music industry itself. (Pitchfork)
• When coffee makers are demanding a ransom, you know IoT is screwed: From this, we could deduce there is no encryption, and the firmware is probably a 'plaintext' image that is uploaded directly into the FLASH memory of the coffee maker (Ars Technica)
• Lewis: Inside a California Covid Revolt Residents of Shasta County have taken resistance to Covid-19 restrictions to another level: "full-on anarchy." (Bloomberg)
• What's the matter with the Universe? About 31%. A new study looked at just matter, and came up with a fairly narrow number: 31.5 ±1.3% of the Universe is made of matter (which, in turn, implies 68.5% is dark energy). (Syfy Wire)
• The Best CBD Brands to Try, From Gummies to Olive Oils: Want to give CBD a shot but skip the cloying neon-colored edibles? These infused chocolates, condiments, Turkish delights and more are designed for the discerning. (Wall Street Journal)
• What I Learned Inside the N.B.A. Bubble: Against all odds, it really was a refuge of competence, normalcy and transcendent play. But the outside world has a way of sneaking in." (New York Times)  
Be sure to check out our Masters in Business interview this weekend with Dave Portnoy, founder of Barstool Sports, now part of publicly traded Penn National Gaming. He is known for not only sports related content, but his reviews every pizza place in NYC ("One Bite With Davey Pageviews)." When live sporting events and gambling got cancelled, he became "Davey Day Trader,"  inspiring an "Army of Day Traders."
Covid-19 enters the top 20 worst pandemics in history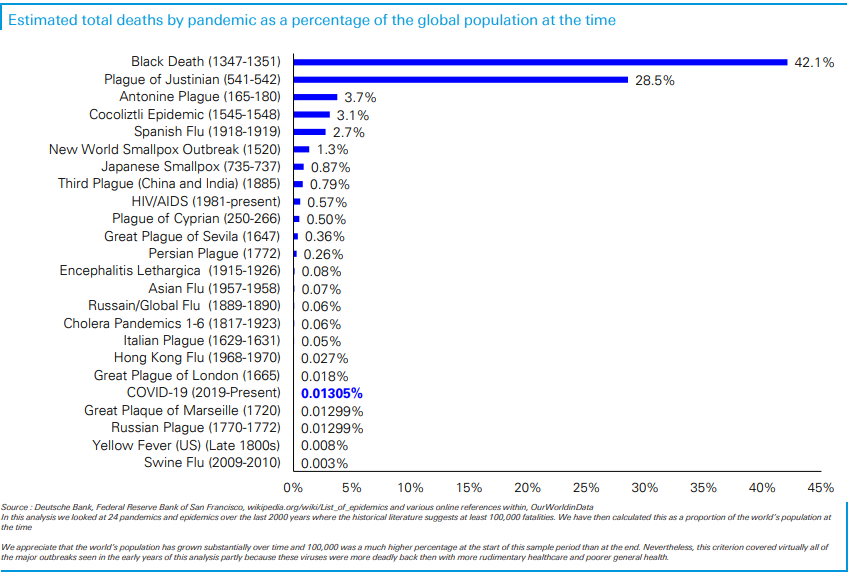 Source: Deutsche Bank
Sign up for our reads-only mailing list here.
The post 10 Friday AM Reads appeared first on The Big Picture.