Stimulus stalemate continues, another big week for Brexit, and more virus restrictions.
Not there yet
President Donald Trump's newfound enthusiasm for a large stimulus package does not appear to be enough to get a deal over the line. The administration is blaming House Speaker Nancy Pelosi for a lack of progress while she called the latest offer a "miserable and deadly failure." White House economic adviser Larry Kudlow said a deal is not essential for the economic recovery, and suggested targeted assistance might be enough. Treasury Secretary Steven Mnuchin is expected to continue talks with Pelosi this week knowing that even if they do come to agreement, there is little chance of getting legislation passed by Congress ahead of the election.
Deal or no deal
You may have heard this one before, but this week is definitely a crunch one for Brexit negotiations. Talks between the U.K. and EU over their post-Brexit relations continue in Brussels today, targeting a deal ahead of Thursday's leaders summit. Prime Minister Boris Johnson held talks with both French President Emmanuel Macron and German Chancellor Angela Merkel over the weekend in an attempt to find a breakthrough. While optimism remains a deal will be found, both the U.K. and EU negotiators have said they will not do one at any cost.
Paid Post
The Future of Domestic Manufacturing
In a post-pandemic world, domestic manufacturing will rise, predicts investment thought leader Jeff Korzenik.

See how it impacts you
Resurgence
European leaders are looking to new containment measures as the spread of the coronavirus continues to quicken in the region. While the resurgence in the virus so far appears to be less deadly than the outbreak in spring, the sheer number of cases risks overburdening hospitals. Boris Johnson is set to tighten rules in the U.K. as daily case numbers there have recently hit record highs. In the U.S., there's been a walk-back from easing in many places. Even JPMorgan Chase & Co. CEO Jamie Dimon, a strong advocate of a rapid return to office work, admitted that it may be the middle of next year before things are back to normal.
Markets rise
Global equities are pushing higher again today as investors watch talks on U.S. stimulus while starting to turn their attention to earnings season which begins tomorrow. Overnight, the MSCI Asia Pacific Index added 0.6% while Japan's Topix index closed 0.3% lower. In Europe, the Stoxx 600 Index had gained 0.4% by 5:50 a.m. Eastern Time led by technology and financial stocks. S&P 500 futures pointed to a higher open, oil dipped below $40 a barrel and gold dropped. Bond trading in the U.S. is closed for a holiday.
Coming up…
The IMF and World Bank annual meetings begin today, with European Central Bank President Christine Lagarde speaking at 7:00 a.m. The Milken Institute global conference also kicks off, with Mohamed El-Erian, Scott Minerd and Ray Dalio among today's speakers. The confirmation of Supreme Court nominee Amy Coney Barrett begins. The Institute of International Finance holds its annual meeting.
What we've been reading
This is what's caught our eye over the weekend. 
And finally, here's what Joe's interested in this morning
In the midst of the Eurozone crisis, numerous commentators used to warn that the U.S. risked becoming the "next Greece" by dint of its high public sector borrowing. Despite the fact that the monetary setup of the two countries is completely different, the fear was that eventually owners of U.S. debt would go on strike, forcing Washington DC into a policy of crippling austerity. Obviously this fear hasn't panned out, nor is it likely to.
However the heterodox economist Michael Hudson, who has done significant work on the history of debt, has a different argument about how the U.S. could go down the same route as Greece. On the latest episode of the Odd Lots podcast with me and Tracy Alloway, he makes the case that ballooning private debt burdens over time have the effect of diminishing demand, consumption, and ultimately investment, essentially creating a de facto austerity. Instead of a government being forced into a policy of austerity in order to keep paying bond investors, it's about individuals, households, small businesses and regional public entities (like, say, the NYC subway) being forced into degradation due to its debt load. In other words, austerity as an emergent phenomenon, as opposed to a discrete policy choice.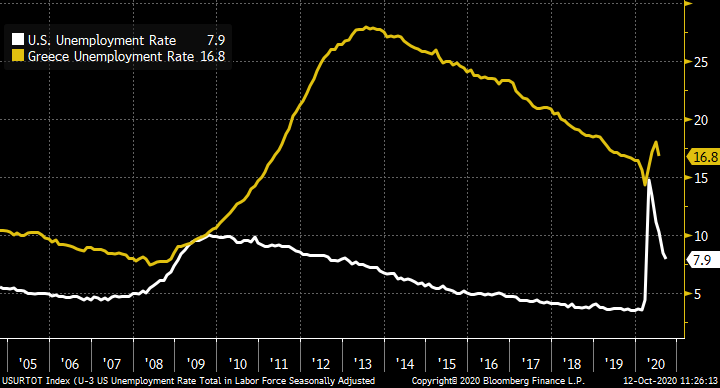 Of course, policy is still important. And a big part of Hudson's work has been the study of debt jubilees or forgiveness, which is an idea that gets batted around from time to time, often in the context of student loans. As he explained, the ancient king Hammurabi engaged in such jubilees, though they weren't universal. They specifically applied only to debts owed to the state after mass crises. So in other words, there's a long history of private sector obligations being taken onto the government's balance sheet in order to wipe the slate clean, and get the economy restarted after a disaster. Another way of saying it is that the best way for the U.S. to avoid becoming "Greece" is for Washington to spend even more to make whole the private and sub-national entities whose finances have been clobbered by the COVID-19 disaster.
Check out the whole conversation at the link above or on iTunes here.
Joe Weisenthal is an editor at Bloomberg.
Like Bloomberg's Five Things? Subscribe for unlimited access to trusted, data-based journalism in 120 countries around the world and gain expert analysis from exclusive daily newsletters, The Bloomberg Open and The Bloomberg Close.
Before it's here, it's on the Bloomberg Terminal. Find out more about how the Terminal delivers information and analysis that financial professionals can't find anywhere else. Learn more.