Stimulus talks continue to go nowhere, Goldman earnings, and Brexit deadline delayed again.
Football
Talks on a fiscal stimulus package which could be delivered ahead of the Nov. 3 election have all but disintegrated into a political blame game. A proposal from Senate Republican leader Mitch McConnell for a vote on a smaller scale program was called a nonstarter by House Speaker Nancy Pelosi. She is looking for the White House to revamp its latest offer as she continues talks with Treasury Secretary Steven Mnuchin. President Donald Trump's call to "go big or go home" on stimulus seems to have had little effect.
Earnings
The big surprise from the start of Wall Street earnings season yesterday was the much smaller than expected level of loan-loss provisions. Goldman Sachs Group Inc. reports before the bell this morning and is forecast to follow JPMorgan Chase & Co. and Citigroup Inc. by posting a solid trading performance. Wells Fargo & Co. and Bank of America Corp. are also announcing results today. Paid Post
The Future of Domestic Manufacturing
In a post-pandemic world, domestic manufacturing will rise, predicts investment thought leader Jeff Korzenik.
See how it impacts you
Fifth Third Bank, N.A.
Deadline dead
British Prime Minister Boris Johnson won't walk away from negotiations over the future relationship between the U.K. and the European Union tomorrow, a deadline he had previously set for a breakthrough. A person close to the negotiations said that Johnson will not make a decision on his next move until after an EU leaders summit ends on Friday. Despite the brief stay of execution, there remains little sign of an agreement in the coming days.
Markets mixed
Yesterday's positive start to bank earnings is helping give stock investors some hope that the corporate landscape may be slightly better than feared. Overnight the MSCI Asia Pacific Index slipped 0.2% while Japan's Topix index closed 0.3% lower. In Europe the Stoxx 600 Index was 0.2% higher by 5:50 a.m. Eastern Time as earnings in the region were well received. S&P 500 futures pointed to a gain at the open and the 10-year Treasury yield was at 0.722%. Oil continues to be stuck close to $40 a barrel after the IEA warned the market remains "fragile."
Coming up…
U.S. PPI data for September is at 8:30 a.m. There is a positive cacophony of central bank speakers today with San Francisco Fed President Mary Daly, Richmond Fed President Thomas Barkin, Fed Vice Chair Richard Clarida, Fed Vice Chair for Supervision Randal Quarles, Dallas Fed President Robert Kaplan, Deputy Governor of the Bank of Canada Timothy Lane and European Central Bank Chief Economist Philip Lane all due to share their thoughts. Steve Mnuchin speaks at the Milken Conference at 11:30 a.m. Amy Coney Barrett's Supreme Court nomination hearing continues. President Trump holds a rally in Iowa.
What we've been reading
This is what's caught our eye over the past 24 hours.
And finally, here's what Joe's interested in this morning
By now it's well understood that when it comes to the labor market, there are really two distinct trends going on. Temporary unemployment is coming down as more and more parts of the economy reopen, while permanent unemployment continues to rise, as the pain of the virus continues to leave its mark. What's particularly worrisome about the permanent unemployment is not just that it's going up, but that it's still going up at a pace faster than before the Great Financial Crisis, despite a massive stimulus, a housing boom and a faster-than-expected reopening.
Meanwhile, a corollary to this can be observed in the inflation data, which we got a fresh read on yesterday. On the headline level, it's similar to jobs. We got an extremely rapid plunge in the CPI right as the crisis hit, and since then it's quickly rebounded to more normal levels. On a year-over-year basis, the index is still below the Fed's target, but it's generally around where it's been for years.
But while the headline number has snapped back (like the headline labor data has), there are signs of a long-term slump at play. When you look at categories such as rent and core services, we see a slump that has yet to abate. Again, it's kind of like the permanent component of the unemployment data.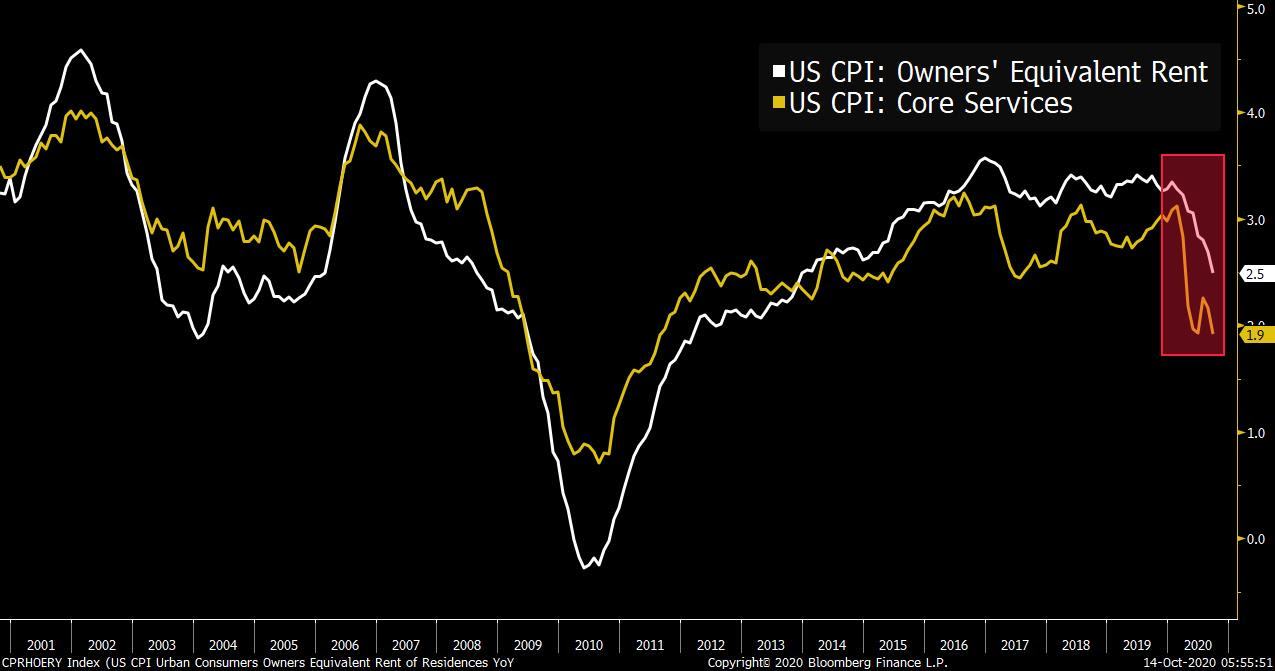 Taken together, the story remains the same as it has been for a long time. We had a massive shock and then a surprisingly fast initial bounce off that shock. But signs of ongoing, broad-based weakness in the economy persist and arguably have yet to improve.
Joe Weisenthal is an editor at Bloomberg.
Like Bloomberg's Five Things? Subscribe for unlimited access to trusted, data-based journalism in 120 countries around the world and gain expert analysis from exclusive daily newsletters, The Bloomberg Open and The Bloomberg Close.