New stimulus deadline, another coronavirus milestone and a fresh twist in Brexit talks.
Tomorrow
Developments over the weekend have reanimated hopes for a stimulus deal ahead of the Nov. 3 election. President Donald Trump said that he wanted "a bigger number" and that Senate Republicans would agree to it "in the end." House Speaker Nancy Pelosi has set Tuesday as the deadline for reaching an agreement that could be passed by Congress in time for voting. Senate Majority Leader Mitch McConnell said Republicans "would of course consider" any proposal, while his party still moves ahead on plans to vote on a $500 billion package.
40 million
The virus surge in Europe helped push the global count for infections past 40 million. India and the U.S. are averaging more than 50,000 cases per day. Countries are tightening restrictions and introducing new ones, as governments struggle to get outbreaks under control, while the weather turns cooler. China, where the virus was first reported, saw its economy expand 4.9% in the third quarter from a year earlier, with consumer spending coming in stronger than forecast.
Paid Post
PIMCO Outlook: Escalating Disruption
The pandemic has amplified long-term macroeconomic disruptors, and fiscal
policy – a key swing factor – may hold the key to upside or downside surprises. Read our outlook and learn implications for investors.
PIMCO
Talks
Washington is not the only place where last-ditch efforts to make a deal are happening today. U.K. chief Brexit negotiator David Frost is due to hold discussions with the EU's Michel Barnier later as they seek a way to quickly restart stalled talks. British Prime Minister Boris Johnson may be forced to water down controversial international law-breaking legislation by the House of Lords — the U.K.'s unelected upper chamber. Also talking today are members of OPEC+ to take stock of the market, with no major changes in policy expected until their December meeting.
Markets rise
Data from China and the push to get a stimulus package over the line are helping to boost sentiment. Overnight, the MSCI Asia Pacific Index added 0.8% while Japan's Topix index closed 1.3% higher. In Europe, the Stoxx 600 Index had risen 0.5% by 5:50 a.m. Eastern Time, with some trading hit as Euronext NV suffered a technical issue. S&P 500 futures pointed to plenty of green at the open, the 10-year Treasury yield was at 0.776% and gold was higher.
Coming up…
Fed Chair Jerome Powell takes part in an IMF panel at 8:00 a.m. There are five other Fed speakers, plus European Central Bank President Christine Lagarde and chief economist Philip Lane later. Treasury Secretary Steven Mnuchin visits the Middle East. Haliburton Co., International Business Machines Corp and PPG Industries Inc. are among the companies reporting results. The Milken conference continues.
What we've been reading
This is what's caught our eye over the weekend.
And finally, here's what Joe's interested in this morning
In a note sent out this weekend, Macquarie strategists Viktor Shvets and Perry Yeung write: "It is the state that stands between civilization and the chaos of falling asset prices destroying houses, jobs and consumption."
This has got to be one of the prime lessons of 2020: When it comes to economic outcomes, the state (at least in the developed world) is incredibly powerful. When the virus came and threatened to obliterate household income this spring, Congress moved quickly and passed the CARES Act — spending trillions of dollars to make up for that. Today, both household net worth and total retail sales are above pre-crisis trends. The state's rapid action made that happen.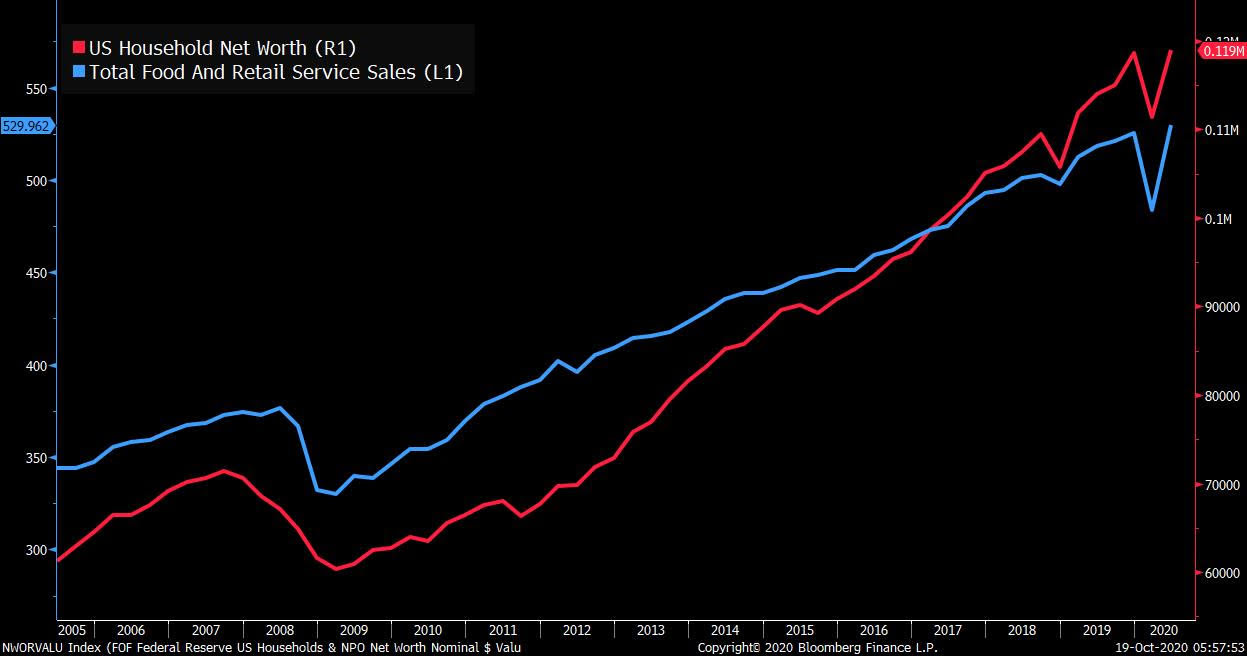 Of course, there's no guarantee that it always will. Politics matter, and of course we already see difficulties in moving further stimulus, despite the fact that many measures of economic performance are still lagging. One ironic thing is that, at a time when more people are appreciating the awesome power of fiscal policy in delivering economic outcomes, the politics underpinning that policy are getting more fraught. When thinking about this election and beyond, the important question is whether the makeup and functioning of government remains such that when a crisis hits, politicians will be able to coordinate and deliver the necessary response. There's no question that it can be done. The question is always whether the votes are there.
Joe Weisenthal is an editor at Bloomberg.