FOLLOW US  GET THE NEWSLETTER
Want the lowdown on what's moving European markets in your inbox every morning? Sign up here.
Good morning. Europe's leaders are loath to return to lockdowns, Brexit talks aren't going well, and Russian activist Navalny may be flown to Germany. Here's what's moving markets.
At Any Cost
German Chancellor Angela Merkel called on European leaders to work together to avoid reviving lockdowns as a resurgence of the coronavirus threatens already battered economies."Politically, we want to avoid closing borders again at any cost, but that assumes that we act in coordination," Merkel said Thursday during a visit to Emmanuel Macron. The meeting in person came as European authorities weigh reimposing restrictions to staunch a fresh wave of infections. The bloc is torn between the need to confront a public-health crisis without delivering another blow to economies. Meanwhile, Russia plans to start international clinical trials of its Sputnik V vaccine.
Brexit Pessimism
U.K. and European Union officials fear a Brexit deal is at risk of slipping through their fingers, with little progress made on key topics that were identified as the biggest obstacles as long ago as March. As talks about the future relationship resumed this week, British negotiators sought to break the deadlock by submitting a draft Free Trade Agreement based on where they believe there is common ground with the EU, said people familiar with the negotiations. Deep disagreements are said to remain over access to British fishing waters and the so-called level playing field requirements aimed at preventing a distortion of competition.
Record IPO
Billionaire Jack Ma's Ant Group plans to file for dual listings in Hong Kong and Shanghai in the next few weeks, targeting a valuation of about $225 billion, people familiar with the matter said, in an effort to pull off the world's largest initial public offering. Ant, which made about $1.3 billion in profit in the March quarter, seeks to float its shares simultaneously on the Hong Kong stock exchange and the tech-focused Star board in Shanghai as soon as October. The company has morphed from a fintech platform to an online mall for everything from loans and travel services to food delivery, and is also pushing into financial services.
Evac Flight
An air ambulance is underway to transfer Alexei Navalny to a hospital in Berlin for further care, pending permission from Russian authorities. On Thursday, the high-profile Putin critic was hospitalized in the Siberian city of Omsk after a suspected poisoning. He remains unconscious and reliant on a ventilator. Navalny's widely-viewed exposes about corruption in Putin's inner circle have made him countless enemies over the years. His aides believe something was put in his tea during a visit to meet activists as "it was the only thing he drank from the morning," his spokeswoman said.
Coming Up…
It's a light day on the earnings front with lockdown-boosted Swedish online retailer Boozt AB and pandemic-shaken airport operator Flughafen Zurich AG. U.K retail sales is coming up, and Purchasing Managers' Index data from the Euro-area and the U.S. are due later. European stock futures are indicated to open higher after modest gains in Asia and a fresh Nasdaq 100 record overnight.
What We've Been Reading
This is what's caught our eye over the past 24 hours. 
And finally, here's what Cormac Mullen is interested in this morning
Traders seem to be ignoring the latest Brexit rumblings with the pound set to breach a key technical level that could point the way to further gains. The British currency is on track to close above a weekly downtrend against the beleaguered dollar that began in April 2018, something it has tried and failed to do for three weeks running. It is also trying to push past a key weekly Fibonacci retracement level from the same move. Sterling has climbed over 1% against the dollar so far in August, mostly on continued weakness in the greenback, though recent U.K. inflation data will likely have helped sentiment. Its resilience this week is more impressive when looking at the gloom surrounding the Brexit talks, which wrap up Friday. Hopes for a deal are slipping away and it seems little progress has been made, with negotiators expected to highlight the "deep disagreements" that remain. Chart watchers suggest a weekly close above the downtrend could open up the door for a quick move toward $1.35, so all eyes will be on where the pound finishes Friday.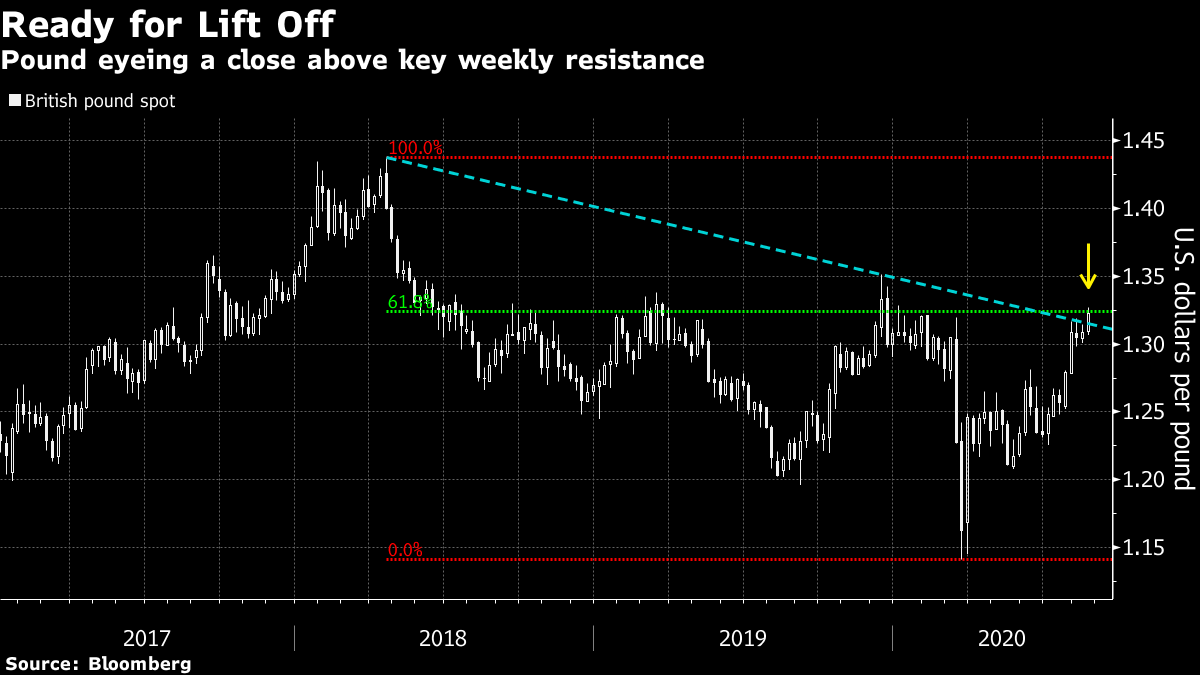 Cormac Mullen is a cross-asset reporter and editor for Bloomberg News in Tokyo.