Bloomberg – Stocks Rise After Volatile Week; Crude Tops $50: Markets Wrap
European stocks pare worst week since November as gold gains

Emerging-market currencies rebound after Brazil selloff
Global equities advanced at the end of a turbulent week that left the dollar on track for its steepest slide since July, as investors assess political crises in Washington and Brazil. Oil topped $50 a barrel in New York.
The S&P 500 Index rose a second day after its biggest drop of the year, while European equities pared the worst week since November. The 10-year Treasury note slipped. The Bloomberg Dollar Spot Index resumed its rout after emerging-market currencies rebounded from a selloff sparked by calls for Brazil's leader to resign. The euro was poised for its best week in almost a year. Gold gained.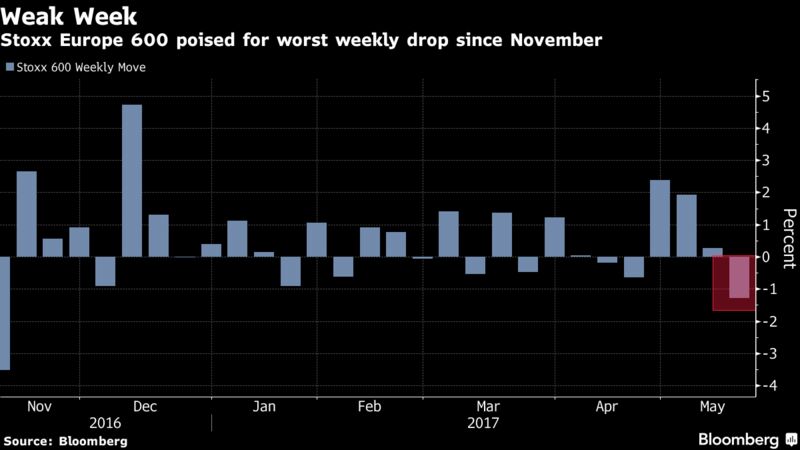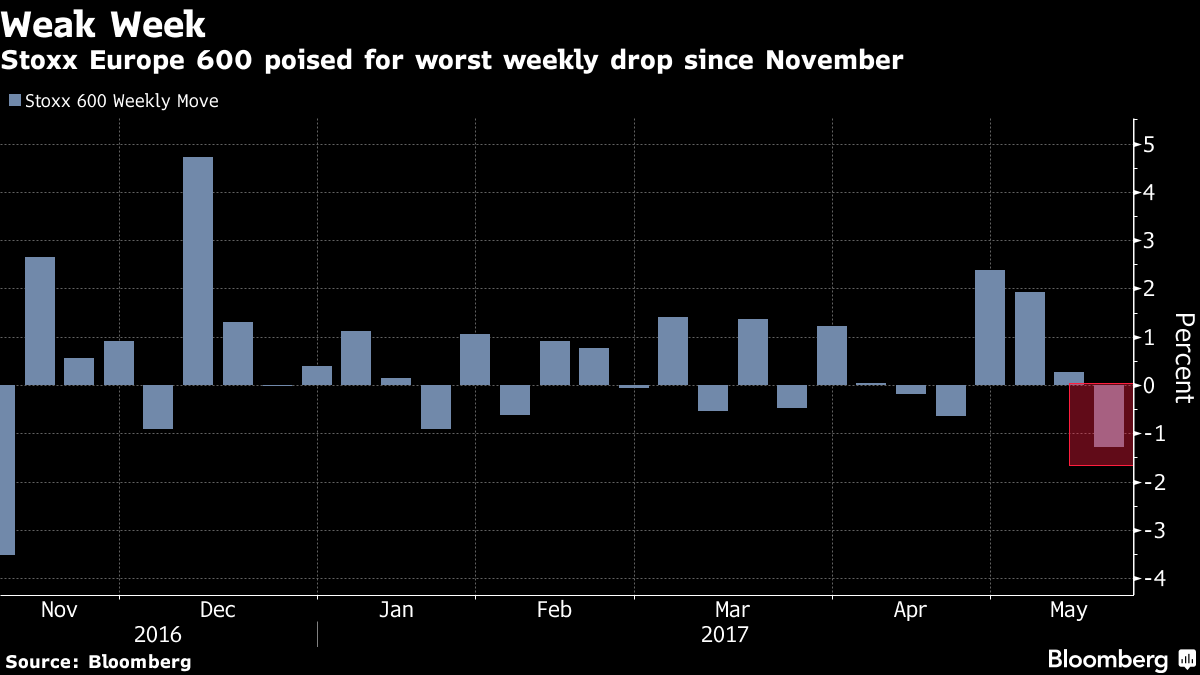 Equity market volatility eased after U.S. President Donald Trump's administration sought to move past controversies surrounding Russia that have threatened to ensnare its plans for tax cuts and infrastructure spending. Risk sentiment was also helped by better-than-expected U.S. jobless claims and regional manufacturing data Thursday.
"Following the initial excitement about the chaotic situation in the White House market participants seem to have calmed down again," analysts at Commerzbank AG including Thu Lan Nguyen said in a note to clients.
The crisis in Brazil added another layer of worries for investors. President Michel Temer has defied calls for him to step down, saying a Supreme Court probe will debunk allegations he participated in a cover-up. Meanwhile, geopolitics remained in the spotlight, amid reports that the U.S. Navy is moving a second aircraft carrier to the Korean peninsula and that Chinese jets intercepted a U.S. Air Force plane.
Read our Markets Live blog here.
What investors will be watching:
Federal Reserve Bank of St. Louis President James Bullard speaks to the Association for Corporate Growth at Washington University's Knight Center in St. Louis.
Trump's first foreign trip as president will be to Riyadh on Saturday, at the invitation of Saudi King Salman bin Abdulaziz. After Saudi Arabia, Trump visits Tel Aviv and Rome before heading to a NATO summit in Brussels and the G-7 meeting in Sicily.
Here are the major moves in the markets:
Stocks
The S&P 500 rose 0.3 percent at 9:31 a.m. in New York, trimming its drop in the week to 0.7 percent.
The Stoxx Europe 600 Index rose 0.4 percent, paring its weekly loss to 1.2 percent.
A Japan-traded ETF tracking Brazil's Ibovespa Index dropped 6.5 percent after an even larger decline on Thursday, closing at the lowest level of the year.
Currencies
The Bloomberg Dollar Spot Index fell 0.5 percent, erasing Thursday's increase. The gauge is 1.3 percent lower for the week.
The euro strengthened 0.7 percent to $1.1182, bringing its gain this week to 2.2 percent, the most since the five days ending June 3. The British pound stood 0.5 percent higher at $1.3002.
The yen was little changed at 111.45 per dollar after falling 0.6 percent on Thursday. The currency is up 1.8 percent for the week, its strongest performance in a month.
The South African rand climbed 0.9 percent after tumbling 2.6 percent over the previous two sessions. Russia's ruble strengthened 0.8 percent as oil prices rose.
Bonds
The yield on 10-year Treasuries climbed one basis point to 2.23 percent. It is down six basis points this week.
Benchmark yields in Germany rose two basis points, while those in the U.K. added four basis points.
Commodities
West Texas crude rose 1.5 percent to $50.08, poised for a weekly increase of 4.7 percent to the highest in a month, on optimism OPEC will reaffirm efforts to drain a global glut at their meeting in Vienna on May 25.
Gold was set for the biggest weekly gain in more than a month as investors weigh political risks in U.S. Bullion for immediate delivery climbed 0.5 percent to $1,253.21 an ounce, on track for a 2 percent advance this week.
Copper rose 1.2 percent to $5,646 a ton, leading most industrial metals higher as sentiment steadied after strong U.S. jobs data.
Soybeans were stable after the biggest one-day drop since August as farmers in Brazil rushed to sell at a "once in a decade" pace as a deepening political crisis sent the nation's currency tumbling. The commodity was 0.5 percent higher at $9.495 a bushel.
Asia
The MSCI Asia Pacific Index rose less than 0.1 percent, with more stocks advancing than declining.
Japan's Topix index climbed 0.3 percent, after sliding 1.3 percent on Thursday. The gauge lost 1.3 percent for the week. The Hang Seng Index rose 0.2 percent and the Shanghai Composite was little changed.
Jakarta stocks soared as much as 3 percent to a record after S&P upgraded Indonesia to investment grade.
—
MrTopStep Group
https://mrtopstep.com
Questions: info@mrtopstep.com
Follow Us On Facebook and Twitter For More Intra-Day Market Updates!
https://www.facebook.com/mrtopstep
https://twitter.com/MrTopStep (@MrTopStep)
Dont Forget To Subscribe To Our YouTube Channel!
Sign Up Here: http://www.youtube.com/mrtopstepgroup