Treasury yields touch one-year low amid global equity slump

Deutsche Bank debt concerns `spooked market': Nomura's Gorman
Sovereign bonds gained, sending the Japanese benchmark 10-year yield below zero for the first time, as investors seeking the safest assets gorged on government debt.
While the rally tempered in London trading hours, Treasury yields fell to the lowest in a year earlier in the day, with those on short-dated German securities sliding to a record. Traders pared the odds the Federal Reserve will raise interest rates this year to 27 percent before Chair Janet Yellen begins her two-day testimony to Congress on Wednesday.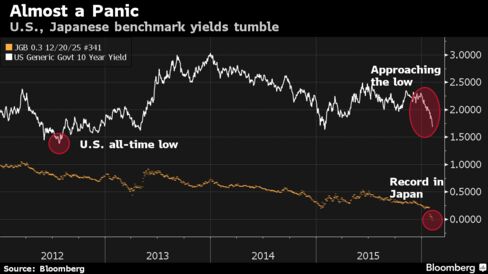 There's now $7 trillion of government debt with yields below zero globally, with the average yield on the Bank of America Merrill Lynch World Sovereign Bond Index at 1.29 percent, the lowest in data going back to 2005.
"It's almost like a panic," said Hideo Shimomura, the chief fund investor in Tokyo at Mitsubishi UFJ Kokusai Asset Management. "The flight to quality is exaggerated."
The benchmark 10-year Treasury yield fell two basis points, or 0.02 percentage point, to 1.73 percent as of 8:07 a.m. in New York, according to Bloomberg Bond Trader data. The 2.25 percent security due in November 2025 rose 7/32, or $2.19 per $1,000 face amount, to 104 22/32.
The yield fell earlier to 1.68 percent, the lowest since February 2015.
Temporary Relief
Bonds are experiencing a "temporary equilibrium" after steep yield declines on Monday, said Philip Marey, a senior U.S. rates strategist at Rabobank Groep in Utrecht, Netherlands. The market is "probably waiting for some new piece of information." It will be interesting to see how Yellen "balances caution and confidence," he said.
Japan's 10-year bond yield fell to as low as minus 0.035 percent, an unprecedented low for such a maturity in a Group-of-Seven economy. Volatility in the nation's debt market climbed to the highest since July 2013.
All German bonds maturing in eight years or less have negative yields, while 10-year bund yields dropped to 0.19 percent, the lowest since April. Australia's dropped as low as 2.38 percent, also unseen since April.
The debt rally this year has added $1.4 trillion, or 3 percent, to the market value of the Bank of America Corp. Global Broad Market Index of bonds.
About 29 percent of the outstanding debt in the Bloomberg Global Developed Sovereign Bond Index now yields less than zero. Switzerland's 3 percent notes due in 2018 had the lowest yield in the gauge: minus 0.95 percent, according to data compiled by Bloomberg.
Stocks Tumble
Investors are snapping up bonds as the MSCI Asia Pacific Index of stocks slid 2.9 percent and the Stoxx Europe 600 Index extended losses into a seventh day.
Traders who have spent 2016 watching oil tumble are swapping crude from their monitors and loading their panels with bond metrics, said John Gorman, the head of dollar debt trading for Asia and the Pacific at Nomura Holdings Inc. in Tokyo. Nomura is one of the 22 primary dealers that underwrite U.S. Treasuries.
The flight to quality gained momentum Monday because of speculation Deutsche Bank AG would have trouble paying its debts, Gorman said. Germany's biggest bank has since said it has the means to service its riskiest debt both this year and next.
"That really spooked the market," Gorman said. "People immediately thought there's a problem where banks can't pay and they can't fund themselves to pay. It does feel like we're reaching a point where the market is panicked."
Read this article in its original format at Bloomberg.com 
—
MrTopStep Group
http://mrtopstep.com
Questions: info@mrtopstep.com
Follow Us On Facebook and Twitter For More Intra-Day Market Updates!
https://www.facebook.com/mrtopstep
https://twitter.com/MrTopStep (@MrTopStep)
Dont Forget To Subscribe To Our YouTube Channel!
Sign Up Here: http://www.youtube.com/mrtopstepgroup