October 2, 2020

Markets, and analysts, seem unsure how to react to jarring news Trump has COVID-19



By Steve Goldstein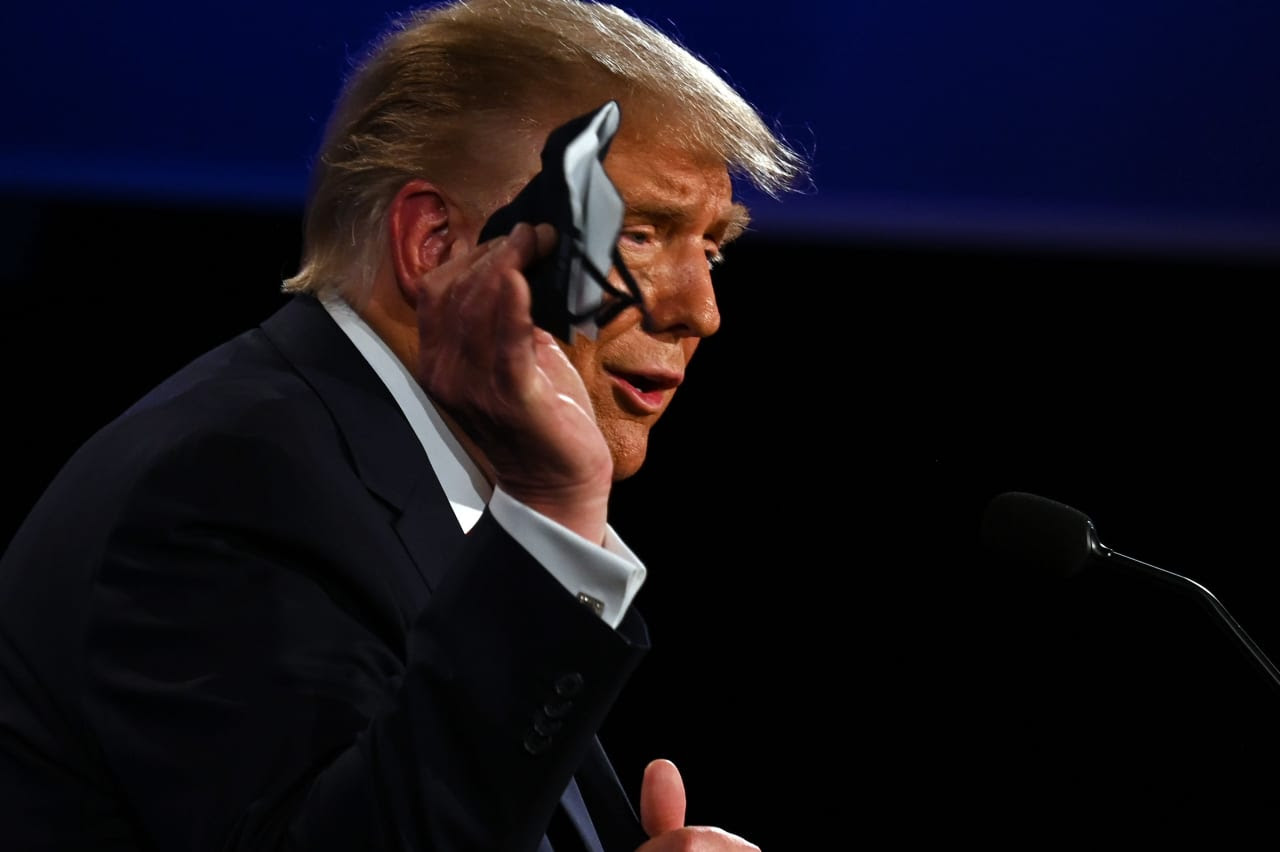 jim watson/Agence France-Presse/Getty Images
The question that market analysts were trying to answer on Friday was whether the news President Donald Trump has contracted COVID-19 is the October surprise that will change the outlook for the election, and of course, markets.
The easiest answer is, who knows?
"Markets (being impersonal) will focus on whether this affects the election outcome or public health policy. The future presidential debates may not happen; these were not seen as especially significant. Those opposed to mask-wearing may revise their views, and the president's experience may impact U.S. public health policy," said Paul Donovan, chief economist at UBS global wealth management.
U.S. stock futures SP 500 FUTURESDJIA FUTURESNASDAQ 100 FUTURES fell sharply, moved off their worst levels of the session as European stock markets opened for trading, and then fell back toward the lows. Read more on financial market reaction. Russ Mould, investment director at U.K. broker A.J. Bell, called it "a mild state of disarray."
Crude-oil futures CRUDE OIL – ELECTRONIC slumped. But the action in other assets, like currencies DXY and gold GCZ0, was restrained. There also, as ever, was other news to contend with, such as the fact U.K. Prime Minister Boris Johnson was set to meet European Commission President Ursula von der Leyen on Saturday — news that could signal progress on avoiding a hard exit from the European Union.
Trump already was trailing in election polls, as well as betting markets, after a debate many labeled "chaotic." On the PredictIt market, the Biden contract to win the presidency was trading at 65 cents on the dollar, compared to Trump at 37 cents. (The biggest gains were for Vice President Mike Pence and Sen. Kamala Harris to win.)
Analysts put forth different possibilities on how the news will be received.
"How Trump recovers from COVID-19 could be a game changer for the election," said Rony Nehme, chief market analyst at Squared Financial. "If he recovers quickly, he was right about the virus, which will be a big boost for his campaign. If he becomes very ill, even with the sympathy vote, it will show his approach to the pandemic was misjudged."
Marshall Gittler, head of investment research at BDSwiss Group, argued the opposite. "Even if he's healthy enough to continue, what message does this give to his supporters, who believed him when he consistently downplayed the severity of the virus, said it was going to 'disappear,' and said his administration's response to it was 'perfect'? Moreover, Trump's whole persona is based on an aura of 'winning.' If he's seen to be a victim, that might cause people to doubt the advice he's been giving about the virus up to now. Disillusioned with their leader, they're much more likely to vote Democrat."
Sebastien Galy, senior macro strategist at Nordea Asset Management, argued the Trump administration may take more radical steps faced with their difficult predicament. "Faced with this, the administration is likely to take a strong step early, likely against China. Hence, this shock should create a series of after shocks and volatility is unsurprisingly expensive," said Galy.


The buzz

Besides the Trump news, markets also will have the last jobs report before the election.
Economists polled by MarketWatch expect 800,000 nonfarm jobs were added in September, with the unemployment rate falling to 8.2% from 8.4%.
"Based on available weekly estimates of unemployment insurance claims and other indicators, we expect the September employment data to show signs of a slowing pace of labor market recovery, reflecting a deceleration in indicators and estimates of aggregate activity," said economists at Barclays, who forecast 750,000 jobs created and the unemployment rate staying at 8.4%.
There's also U.S. consumer sentiment data on tap. Eurostat reported a second month of deflation in the eurozone, with prices falling 0.3% year-over-year in September.
In deal that had been anticipated, Walmart WMT said it's selling its U.K. supermarket chain Asda in a deal that values it at £6.8 billion net of debt and cash. The buyers are the Issa brothers, who co-own a convenience chain, and the private-equity group TDR Capital. Walmart said it will retain an equity investment in Asda and a seat on the board.
Uber Technologies UBERsaid that an investor group led by Greenbriar Equity Group is investing $500 million in Uber Freight, the company's logistics arm, in a Series A preferred stock financing that values the unit at $3.3 billion. Uber will retain majority control, and Greenbriar will add two partners to the Uber Freight board.


The chart

The headship rate — the propensity to lead a household — seems to be bottoming out, in what is further good news for an already hot housing market. "Household formation has its place as a foundational leading indicator of housing demand, since every new household needs a home," said Stephen Kim, analyst at Evercore ISI. "Even if headship rates stay at these levels, roughly 1.3 million households will be formed in each of the next three years. They may never navigate all the way back to their '03 levels, but assuming these rates make up just half of that ground over the next three years it would imply an additional 650k households would be formed annually ."


Need to Know starts early and is updated until the opening bell, but sign up here to get it delivered once to your email box. The emailed version will be sent out at about 7:30 a.m. Eastern.