November Expiration Week: S&P 500 & DJIA Best
---
DJIA has been up 10 of the last 15 years on Monday of expiration week and Friday is up 13 of the last 17 years with an average gain of 0.45%. By the way, it is not a mistake that November Op-Ex day has the same point change and percent change in 2014 and 2015. It was triple checked and its correct. If you go out 2 more decimal places in the percentage calculation, it's different.
S&P 500, NASDAQ and Russell 2000 have not been as bullish as DJIA around or on November option expiration. S&P 500 has advanced only 16 times during options expiration week while NASDAQ and Russell 2000 have climbed only 15 and 14 times respectively over the past 25 years. All four indices have posted average losses on Monday and aside from DJIA and S&P 500 have been essentially mixed on options expiration day. Friday's solid average gains across the board are largely due to a sizable gain in 2008. Any weakness next week could be a good entry point for new longs ahead of the usually bullish Thanksgiving holiday.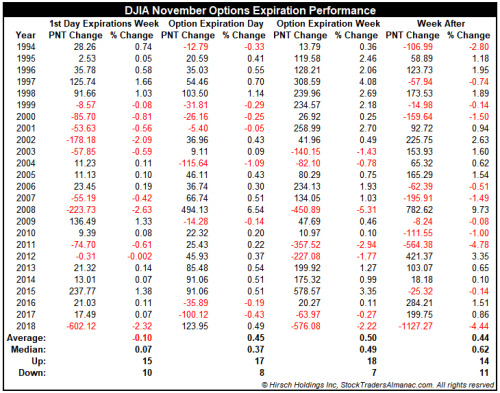 ---
---
As always, please use protective buy and sell stops when trading futures and options.
Disclaimer: Trading Futures, Options on Futures, and retail off-exchange foreign currency transactions involves substantial risk of loss and is not suitable for all investors. You should carefully consider whether trading is suitable for you in light of your circumstances, knowledge, and financial resources. Any decision to purchase or sell as a result of the opinions expressed in the forum will be the full responsibility of the person(s) authorizing such transaction(s). BE ADVISED TO ALWAYS USE PROTECTIVE STOP LOSSES AND ALLOW FOR SLIPPAGE TO MANAGE YOUR TRADE(S) AS AN INVESTOR COULD LOSE ALL OR MORE THAN THEIR INITIAL INVESTMENT. PAST PERFORMANCE IS NOT INDICATIVE OF FUTURE RESULTS.
(Visited 2 times, 1 visits today)