Flattish day on Friday, but far from boring.
The iShares Barclays 20+ Yr Treasury Bond (NYSE: TLT [FREE Stock Trend Analysis]) crashed then spiked to levels that are very concerning to market experts.
Conversely, the 10-year spiked three percent then crashed from 27 to a 24.74 low. The yen was flattish, but ramped up all day.
This should have caused a sell off in the markets.
But since the jobs report was strong, the effect of those worrisome rate and yen movements merely offset the pre-open exuberance.
On a good note, the small caps closed green.
Next week will largely depend on the Geo-political developments.
If traders get no major headlines, then they should come into the open neutral. This was not the environment to take trades over the weekend.
For those that have a portfolio that is mostly full of long positions may want to consider hedging some by taking a few shorts:
IBM (NYSE: IBM) put spreads might work. The stock was down $3.00 on Thursday (a strong market day) and then down another $2.00 on Friday. But even more concerning is that puts outnumbered calls more than 2:1.
So, traders are not only selling it, but also betting against it in the options markets. Levels can vary based on personal preference.
See chart below for reference.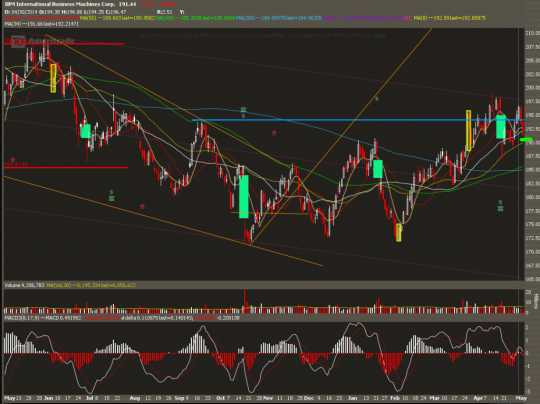 Get this week's outlook:
[youtube id=A5gLHEwXVvQ]