Thank you and goodbye Starbucks!
Activist investor Bill Ackman exits his position in Starbucks after Pershing makes a 73% return.
Not bad Bill!
Tesla stocks seem to be experiencing a case of bipolar slipping 21%
The biggest drop on record!
In other news, things have taken an unexpected turn in Washington.
Mitt Romney has said Trump must be thrown from office…
An emotional Mitt Romney has denied Republicans a clean-sweep in the pending acquital of Donald Trump.
Trumps son Donald Trump Jr. took to twitter stating that Mitt was "now officially a member of the resistance & should be expelled from the GOP.
Back to markets.
Last night, U.S. stocks rallied to an all-time high, while Treasuries slumped on speculation efforts will succeed at minimizing the economic impact from the coronavirus. Crude oil rallied after tumbling into a bear market.
The S&P 500 Index's three-day gain topped 3%, and the Nasdaq indexes added to records. Risk sentiment got a boost overnight after a string of reports on possible vaccines, but the World Health Organization later said there are no proven therapeutics. Treasuries retreated, sending 10-year yields above 1.64%, even as more quarantines were announced in an effort to control the virus. Energy producers surged as crude rallied the most in almost a month on the prospect of OPEC output cuts.
Havens including the yen and Swiss franc slipped. The dollar rose, with data showing U.S. firms added more jobs than economists' forecasts in January. Copper jumped 1.7%.
U.S. stocks continued their torrid rebound from the virus-fomented sell-off as optimism mounted that the spread will be contained and more central banks signaled a willingness to act if the virus undermines demand, inflation and financial markets. Better-than-forecast corporate earnings also continued boost equities.
The SPI is up 53 points this morning.
Source: Bloomberg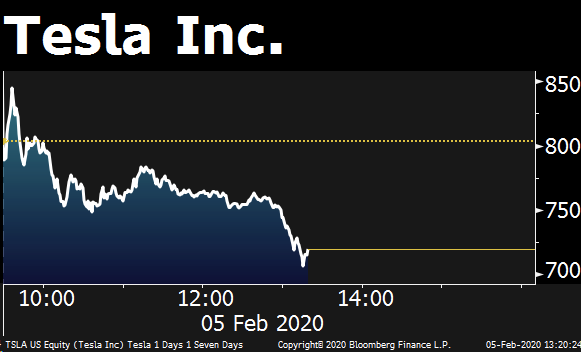 Want to join the Peak Community and get access to our "hand-picked" corporate deals?
Stocks
The S&P 500 Index climbed 1.1% as of 4 p.m. New York time.
The Nasdaq 100 Index added 0.4%.
The Stoxx Europe 600 Index gained 1.2%.
The MSCI Asia Pacific Index rose 0.6%.
Currencies
The Bloomberg Dollar Spot Index gained 0.2%.
The British pound fell 0.3% to $1.2992.
The euro declined 0.4% to $1.0998.
The Japanese yen weakened 0.3% to 109.806 per dollar.
Bonds
The yield on 10-year Treasuries rose five basis points to 1.65%.
The two-year rate added three basis points to 1.44%.
Germany's 10-year yield increased four basis points to -0.36%.
Commodities
West Texas Intermediate crude increased 2.9% to $51.04 a barrel.
Copper rose 1.7% to $2.578 a pound.
Gold added 0.2% to $1,556.47 an ounce.
Source: Bloomberg
With vanadium extraction of up to 95.5 per cent in the bag, Australian Vanadium is now carrying out pyrometallurgical testwork for its definitive feasibility study (DFS).
Laboratory testwork carried out to simulate the industry standard Grate Kiln process had resulted in improved vanadium extraction averaging about 92 per cent compared to traditional rotary kiln extraction of between 85 to 88 per cent.
Australian Vanadium (ASX:AVL) said this was achieved by pelletising concentrate produced by preliminary beneficiation from its namesake project near Meekatharra, Western Australia.
This concentrate was then subject to oxidative salt roasting to simulate a commercial straight Grate Kiln, which has a track record in the iron ore, titanium and steel industries.
The company said that pellet processing using this process had the advantages of higher reaction progress, greatly reduced kiln build up, significant reduction in dust loss and ease of process control and heat recovery.
Source: Stockhead
By letting us know more about you, we'll be able to tailor deals and content to what you prefer.

What type of deals do you invest in (IPOs, Pre-IPOs or Seed)?

Would you like to receive market updates every morning and afternoon?
Company name: 
Digital Wine Ventures (ASX:DW8)
Sector: 
Consumer Discretionary
Year:
 2019
Deal Type: 
Placement
Raise Amount: 
$1.6m
Price Change: 
$0.0080 Unchanged
Company name: 
Candy Club (ASX:CLB)
Sector: 
Consumer Discretionary
Year:
 2018, 2019
Deal Type: 
Seed, Bridging and IPO
Raise Amount: 
$10m
Price Change: 
$0.065 Unchanged
Company name: 
Tymlez (ASX:TYM)
Sector: 
Technology
Year: 
2018
Deal Type:
Seed and IPO
Raise Amount: 
$10m
Price Change: 
$0.030 +3.45%
Company name: 
Okapi Resources (ASX:OKR)
Sector: 
Mining
Year: 
2017
Deal Type: 
Seed & IPO
Raise Amount: 
$5m
Price Change: 
$0.075 Unchanged
Company name: 
Golden Mile Resources (ASX:G88)
Sector: 
Mining
Year: 
2017
Deal Type: 
IPO & Placement
Raise Amount: 
$6m
Price Change:
 $0.050 Unchanged
Company name: 
Lifespot Health (ASX:LSH)
Sector: 
Healthcare Equipment and Services
Year: 
2016
Deal Type: 
IPO
Raise Amount: 
$8m
Price Change: 
$0.034 Unchanged
(Visited 7 times, 1 visits today)