Stocks Decline With Commodities as Dollar Advances: Markets Wrap
S&P 500 heads for first two-day slide, pares weekly gain

French bonds drop as candidates mull joint election bid
U.S. stocks headed for the first two-day slide of the month, while Treasuries advanced as the rally in riskier assets that took equities to records eased, with investors awaiting details of the Trump administration's pro-growth policies.
The S&P 500 Index pared a weekly advance that saw it close at records, with commodity producers slipping as oil and metal prices slumped. The 10-year Treasury note yield slid to 2.42 percent. French bonds retreated and the euro weakened as political risks weighed on sentiment. The pound headed for the lowest level in a month. U.S. markets are closed Monday for a holiday.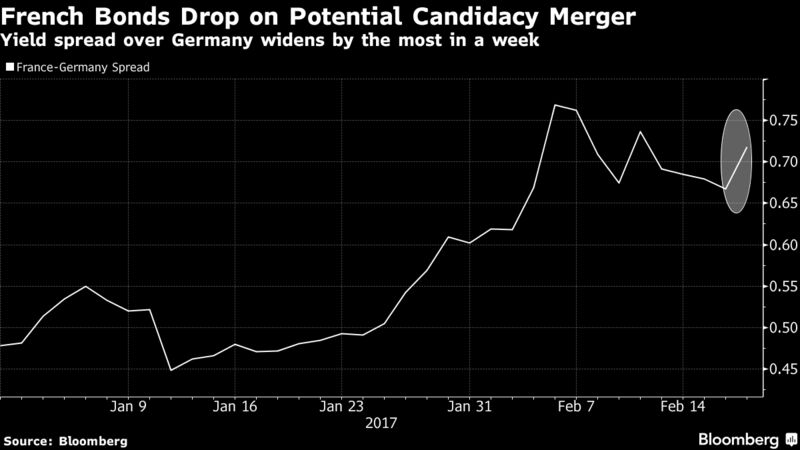 Stocks are pausing a rally as investors go back and forth assessing the prospects for President Donald Trump's economic plans and the timing of U.S. interest-rate increases. In Congressional testimony this week, Federal Reserve Chair Janet Yellen warned against waiting too long to tighten policy. Concerns about France's future in the euro region in the event of a Marie Le Pen presidency are roiling the country's assets.
"The softness we're seeing this morning isn't surprising given the positive energy we've had in the past week," said Nandini Ramakrishnan, a London-based strategist at JPMorgan Asset Management. "Le Pen strength in the polls does mean a weaker euro. We expect the euro to be a first bearer of that brunt."
Read our Markets Live blog here.
Stocks
The S&P 500 fell 0.2 percent to 2,342.36 at 10:37 a.m. in New York, trimming its gain in the week to 1.1 percent.
The Stoxx Europe 600 Index fell 0.2 percent as energy companies slid 1.4 percent.
The MSCI Asia Pacific Index lost 0.2 percent, with China stocks traded in Hong Kong paring a weekly gain.
Bonds
Treasuries gained, pushing the yield on benchmark 10-year notes down four basis points to 2.41 percent.
European government bonds were mixed. French notes fell, with yields on 10-year notes rising two basis points to 1.03 percent. German bonds gained, with benchmark yields dropping five basis points to 0.3 percent, while gilts advanced following the retail report, driving benchmark yields five basis points lower to 1.21 percent.
Currencies
The Bloomberg Dollar Index erased a 0.2 percent drop to advance 0.2 percent.
Sterling fell 0.5 percent percent, heading for the weakest closing level in a month, after data showed retail sales unexpectedly fell for a third month in January.
The euro slipped 0.2 percent to $1.0649
Commodities
The Bloomberg Commodity Index, which measures returns on raw materials, fell 0.5 percent, heading for its fourth weekly drop in five.

Oil declined 0.5 percent to $53.11 a barrel. Crude is heading for its first weekly decline in five weeks as expanding U.S. crude stockpiles countered output cuts from OPEC and other producing nations.

Gold added 0.4 percent to $1,243.32 an ounce and is and is set for its seventh weekly gain in eight weeks.
—
MrTopStep Group
https://mrtopstep.com
Questions: info@mrtopstep.com
Follow Us On Facebook and Twitter For More Intra-Day Market Updates!
https://www.facebook.com/mrtopstep
https://twitter.com/MrTopStep (@MrTopStep)
Dont Forget To Subscribe To Our YouTube Channel!
Sign Up Here: http://www.youtube.com/mrtopstepgroup