Stocks Rise With Dollar Before Trump Comments: Markets Wrap
U.S. equities, dollar remain stuck in monthlong trading range

Pound dogged by political risk as May speaks in parliament
U.S. stocks rose with the dollar as investors awaited comments from Donald Trump for clues on the conviction behind his policy proclamations. Political risks weighed on Turkey's lira and the British pound.
The S&P 500 Index climbed within percent below an all-time high, while the Dow Jones Industrial Average resumed its pursuit of 20,000. The yield on the 10-year Treasury note rose to 2.38 percent. The dollar rallied, while the three worst-performing major currencies of 2017 — the pound, Mexican peso and Turkish lira — extended their slide. Oil rose and gold slipped.
The president-elect's address may provide details on the timing and scope of planned policies from infrastructure spending to trade pacts that will set the tone on financial markets in 2017. The dollar and stocks have been stuck in a monthlong rut since the Federal Reserve's rate decision. Speculation Trump will pursue a pro-growth agenda unencumbered by backlash from any protectionist moves sparked the rallies that drove American equities to records and the dollar to a 14-year high.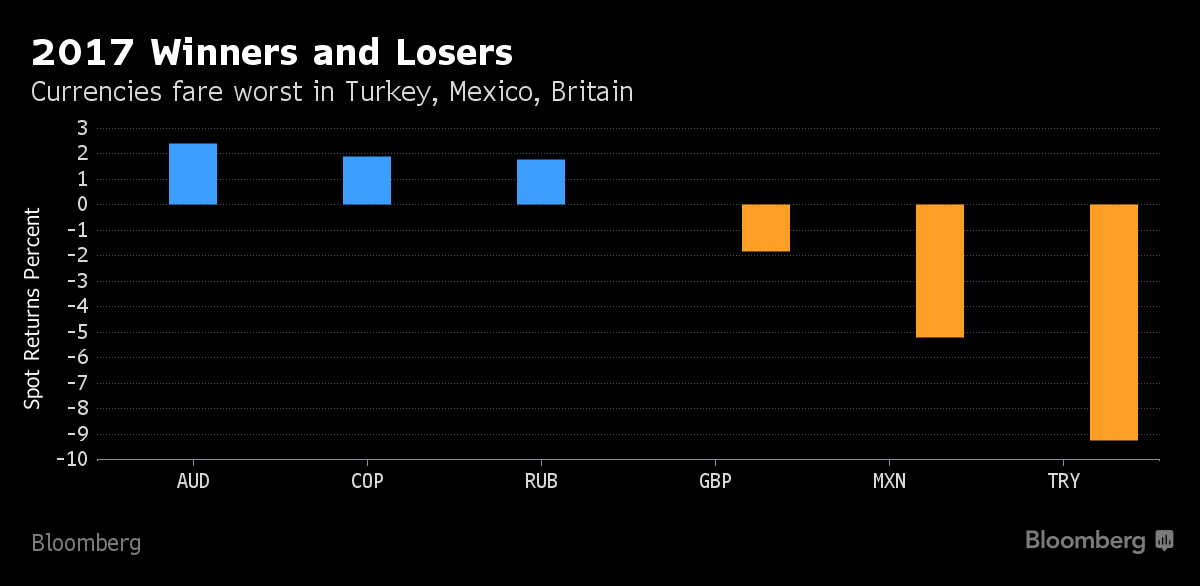 "There's quite a lot of positioning that Trump delivers at least part of the stimulus he promises," said Christopher Jeffery, asset allocation strategist at Legal & General Investment Management in London, who has recently adopted neutral weighting on the dollar from a more-bullish stance. "We worry that positioning has become stretched and that he doesn't deliver."
Read more from our Markets Live blog here.
The S&P 500 rose 0.2 to 2,274.32 at 10:41 a.m. in New York. The index is up 6 percent since Trump's election, though it's virtually unchanged since Dec. 13, the day before the Fed decision.
The Dow added 103.58 points to 19,959.11.
The Bloomberg Dollar Spot Index, a gauge of the greenback against 10 major peers, gained 0.7 percent to match the level it held the day after the Fed's rate hike.
Turkey's lira slumped 2.3 percent, retreating for a fifth day as investors awaited signs the central bank will support the currency.
The euro fell for a second day, while the pound dropped below $1.21 for the first time since October.
West Texas Intermediate crude advanced 0.7 percent to $51.15 a barrel.
U.S. Treasuries edged higher, with the yield on the 10-year benchmark declining one basis point to 2.37 percent.
—
MrTopStep Group
https://mrtopstep.com
Questions: info@mrtopstep.com
Follow Us On Facebook and Twitter For More Intra-Day Market Updates!
https://www.facebook.com/mrtopstep
https://twitter.com/MrTopStep (@MrTopStep)
Dont Forget To Subscribe To Our YouTube Channel!
Sign Up Here: http://www.youtube.com/mrtopstepgroup