Top Oil Trader Vitol Paid Staff Dividend of $820 Million in 2015
350 employees split payout after bumper year for trading house

Total remuneration to board increased more than sixfold
Vitol Group, the world's biggest independent oil trader, paid its top executives and staff a special dividend of $820 million in 2015, regulatory filings show.
The dividend, distributed among a group of about 350 top employees who are also shareholders, came as the company confirmed it posted net income of $1.6 billion, the highest profit for the trading house since 2011, filings with the Dutch Chamber of Commerce show.
The dividend payments are awarded to employee-shareholders of the privately held company in addition to salaries and bonuses. From 2008 to 2015, Vitol shareholders were awarded payouts totaling about $6.4 billion, the filings show.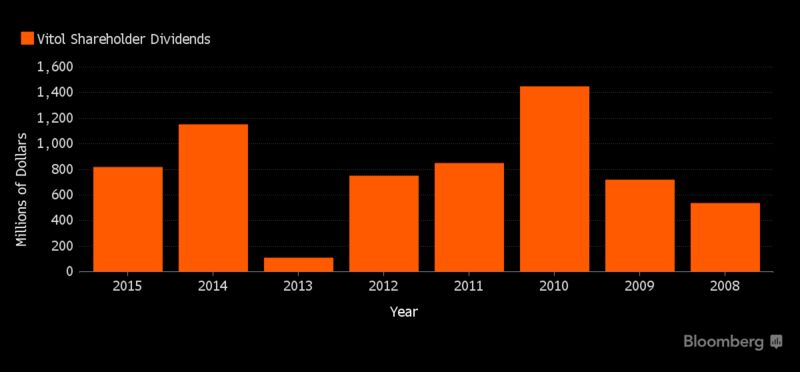 In an interview last year, Vitol's Chief Financial Officer Jeff Dellapina said the payouts haven't prevented the company from continuing to invest in its business. "Over the past 10 years we've reinvested 50 percent of the profits in the business — an appropriate level for an established and growing company," he said.
A Vitol spokeswoman in London declined to comment.
The documents also show Vitol's board of directors' total remuneration increased more than sixfold to $26 million in 2015 from $4 million a year earlier. Vitol's board includes Chief Executive Officer Ian Taylor, Switzerland Managing Director David Fransen, Head of Asia Kho Hui Meng,Mike Loya the U.S. trading head and Russell Hardy, a senior executive.
In 2015, oil traders reaped rewards from price swings and a contango market structure that allowed them to lock in profits by storing crude to be sold later at higher prices. Vitol's first-half net income slumped 42 percent in 2016, a person familiar with the matter said in October, as the trading house grappled with fewer opportunities to benefit from volatility.
—
MrTopStep Group
https://mrtopstep.com
Questions: info@mrtopstep.com
Follow Us On Facebook and Twitter For More Intra-Day Market Updates!
https://www.facebook.com/mrtopstep
https://twitter.com/MrTopStep (@MrTopStep)
Dont Forget To Subscribe To Our YouTube Channel!
Sign Up Here: http://www.youtube.com/mrtopstepgroup
(Visited 155 times, 1 visits today)