ADP numbers came in better than expected at 200k, given teh recent tracking with NFP this would point to an NFP figure on Friday of around 170k and slightly below the expectations of 180k, however these never track that closely.
The US GDP figure also came in better than expected but with a slight sting in the tail, firstly the methodology for calculating GDP has been revised again which from the chart below (thanks to Market Watch) points to upward revisions anyway.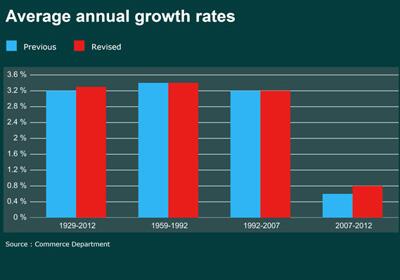 The additional sting therefore came in the downward revision of last months figure.
Finally today we had the FOMC statement which as per normal generated a lot of buzz but failed to really deliver, although came in as expected with the fed keeping the 6.5% unemployment threshold and therefore not pushing rate cuts out much further but doing nothing to firm up market thoughts of tapering in September.
Statement was therefore overall a load of nothing. Definitely nothing new from June statement, regardless of wider commentary we would focus on levels as opposed to trying to gather too much from it. Remember to play what the markets give you and not your own personal opinion.
Tomorrow we see Central banks up with no change expected from BoE, although watch for any possible further guidance (could easily be Dovish for the Pound), followed by Super Mario. We are really expecting Draghi to cap the Euro tomorrow with some Dovish comments, if he doesn't we could easily see the EURUSD gain some rapid ground, but suspect there is a much higher chance he pushes the currency lower again.
EURUSD
RTAS Order Book systems remain long this pair at the 1.3000 level. Pair has remained relatively static at these levels ahead of the key risk events this week, however today saw some interesting Order Book moves with an initial turn after the FOMC either on hitting stops or clearing orders but we started to see some Retail Buyers in the pair. If Retail buying continues we could see a nice reversal signal this week.
The daily chart is now sat at key resistance with the 1.3300 mark currently containing the pair still. A lot will now rest on Draghi's comments and NFP, but recent highs are not far above at the 1.3400 level.
GBPUSD
RTAS Order Book systems hold long this pair as the Retail Order Book has remained relatively static lately with Retail Traders not really budging in either direction, we did see however some minor Retail Buying towards the close and this would be nice for a reversal pattern this week.
Recent move lower in GBPUSD has been relatively aggressive given the static Order Book, the 4hr chart does continue to look heavy here and we could easily see a drop lower; we would like to see some confirmation in the Order Book though.
Really interesting Bullish Pin Bar on the Daily chart suggesting we could have found some interim support for a push higher. A lot will depend on the next two days but this could offer a really good risk reward if we have a less Dovish BoE with further forward guidance or a terrible NFP figure (Risk Reward on chart as per our own in-house indicator – Pin Bar Detector)
AUDUSD
RTAS Order Book system switched to longs on AUDUSD just prior to the FOMC statement booking profits on shorts from the 0.9250 level. Retail Selling in the pair gave the chance for the systems to book some profits and we shot back to extreme levels in the Retail Order book. Pair could easily get choppy again if it intends to push lower as we will need to go through a similar process as before on clearing space in the Order Books.
Highlighted the following area on our Daily chart yesterday with the key 0.9000 level critical. A close below is likely to see us push even lower with 0.8500 not that far out of reach. If we can maintain above the 0.9000 level then we could start to see an attempt to chop higher again, however with the RBA comments also pushing this pair lower it could struggle.
USDCHF
Order Book systems now holding short this pair as Retailers have been buying it up recently, however it has struggled to break lower and the 0.9225 pivot is still holding nicely with a nice price rejection at close potentially pointing to a move higher. We would like to see selling in the Retail Order book to confirm the move higher but suspect we are close to the turning point.
Daily chart has essentially stalled for the time being struggling to push higher or lower like many US Dollar crosses. Pair has support lower at the 0.9170 level as well which could offer further support. Although we suspect this pair is close to pushing higher and can't see it moving much lower it could dip and chop before rebounding.
EURAUD
With the RTAS Order Book system switched to shorts and held through the Aussie spike causing it to be massively out of the money at the moment and was hedged by the AUDUSD move, however with systems booking profits on AUDUSD focus returns to this pair. REtail Traders remain aggressively short this pair and although it looked like they were starting to close shorts for longs they haven't been able to make a real go of it.
Pair looks slightly heavy tonight and looks exhausted on some of the technicals so could be due a minor correction, however recent price action tends to point to the fact that the rally in this pairs isn't done yet and we will have to take the hit.
Daily chart looking far more positive again but does look massively overdone with recetnt two day moves the largest of any of the moves in this rally. We continue to get large RSI divergences which are normally a warning sign but as of yet the pair has held up well.