Nordic nations dominate the top 15, while South Korea reigns supreme and Russia is dealt a huge blow
There's something about those Nordic countries.
In the battle of ideas, Sweden climbed to No. 2 and Finland cracked into the top five of the 2017 Bloomberg Innovation Index, which scores economies using factors including research and development spending and the concentration of high-tech public companies.
South Korea remained the big winner, topping the international charts in R&D intensity, value-added manufacturing and patent activity and with top-five rankings in high-tech density, higher education and researcher concentration. Scant progress in improving its productivity score — now No. 32 in the world — helps explain why South Korea's lead narrowed in the past year.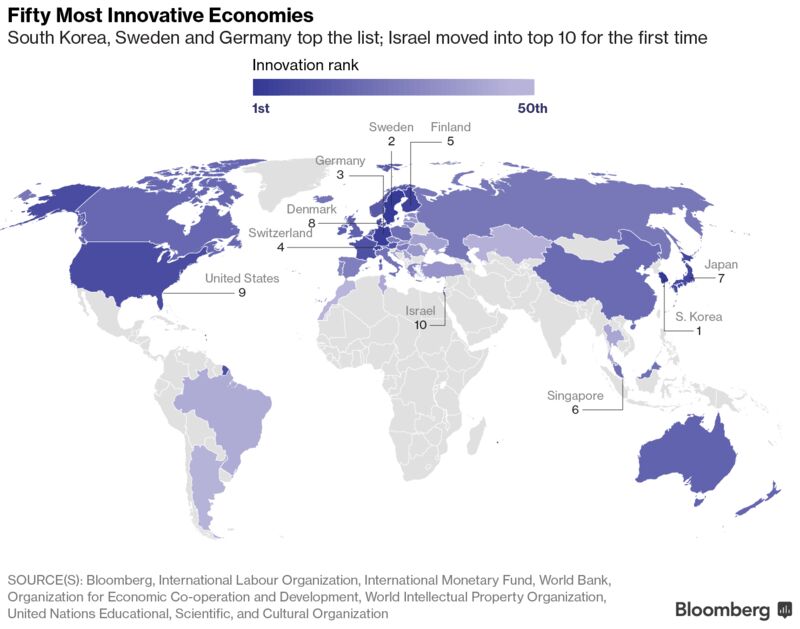 Silver medal winner Sweden owes most of its rise to improvement in the manufacturing value-added metric, while Nordic neighbor Finland jumped two spots in large part because of the rise of high-tech firms in the country. Norway held its No. 14 spot from last year.
Fresh ideas tend to pay off big in Sweden, even as the current government is less business-friendly and has imposed labor taxes that could crimp business investment, said Magnus Henrekson, director of the Research Institute of Industrial Economics, a private foundation in Stockholm. The Swedes themselves promote an atmosphere of great personal ambition — unlike some European neighbors that emphasize the collective — and that's a boon to innovation, he said.
"In the culture, people are super individualistic — this means that people have ideas and are very interested in pursuing them in this way in order to become wealthy," said Henrekson. "The incentives are there and the tax system favors them."
Government financing particularly for small firms has made the difference in a country traditionally dominated by multi-national companies, said Asa Lindholm Dahlstrand, professor in innovation studies at the Centre for Innovation, Research and Competence in the Learning Economy at Lund University in Sweden. The emphasis on research and development — the country stayed at No. 5 for the R&D spending sub-category — has helped Sweden weather the continent's economic storms of the past several years.
"There's a lot of focus on R&D in Sweden. We've seen what's happened in a lot of other countries where they didn't do it," said Dahlstrand.
One more cautionary note for Sweden in the coming year: While a very weak krona amid easy monetary policy has helped the country's exports fly off the shelves, Henrekson warns that that benefit won't last forever.
"It's never good in the long term to be able to make profits too easily just because your currency is under-valued," he said.
The biggest loser in this year's Bloomberg Innovation Index was Russia, plunging 14 spots to No. 26, almost five times the size of the next-largest drop in the rankings. Battered by sanctions and the after-effects of a couple years of subdued energy prices, Russia's solid scores last year in manufacturing and productivity were destroyed in this year's tally.
Japan, where the yen is still struggling to recover from an almost two-year slide, dropped the most of any economy in the top 25, moving to No. 7 from No. 4 as they lost their best-in-world distinction for patent activity. Croatia also slipped three spots, to No. 41 from No. 38.
The U.S. fell one spot to No. 9, while Israel moved up one notch to No. 10. China held its title as the strongest-ranked emerging market, at No. 21, as it improved its tertiary education score while its high-tech concentration wavered.
The ranking began with over 200 economies, from which those that didn't report data for at least six of seven categories measured were eliminated, trimming the list to 78. Bloomberg released overall and category scores for the top 50 innovative economies.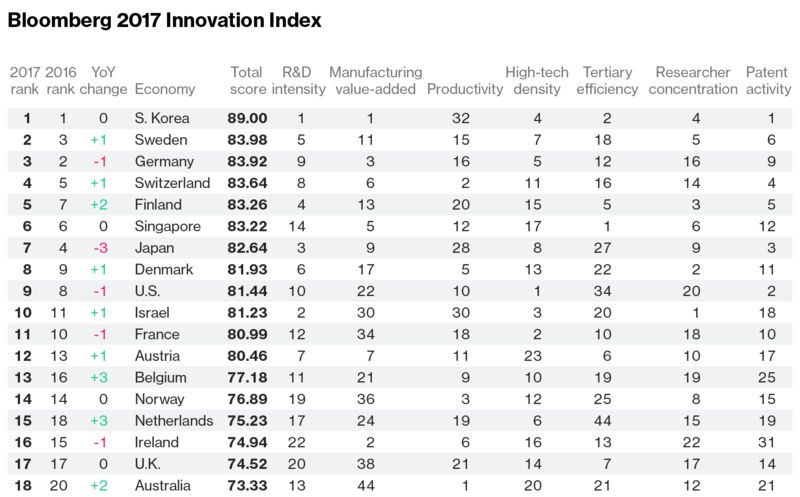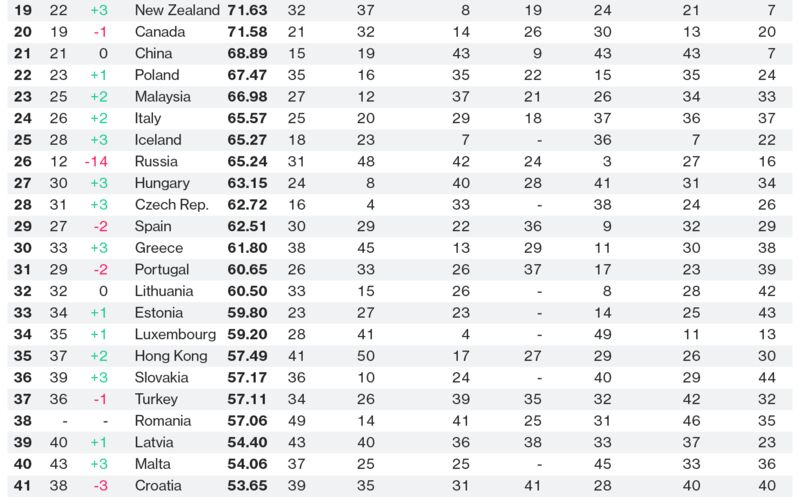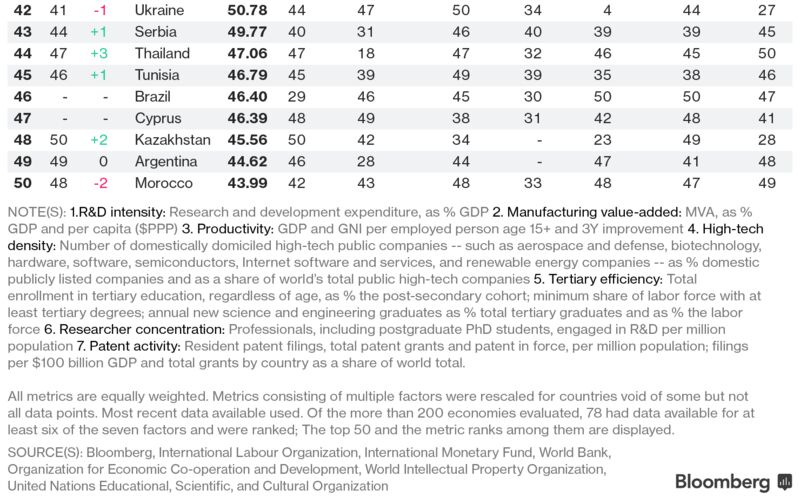 —
MrTopStep Group
http://mrtopstep.com
Questions: info@mrtopstep.com
Follow Us On Facebook and Twitter For More Intra-Day Market Updates!
https://www.facebook.com/mrtopstep
https://twitter.com/MrTopStep (@MrTopStep)
Dont Forget To Subscribe To Our YouTube Channel!
Sign Up Here: http://www.youtube.com/mrtopstepgroup