Good afternoon from London. I'm Saleha Riaz, here with WSJ City's fast, smart take on the news. For more concise business news and analysis—and to listen to articles—get the WSJ City app. Here's what's top of today's agenda.
 Today's reading time: 3 minutes 50 seconds
Trump Ends Davos Trip by Talking Up Trade Deal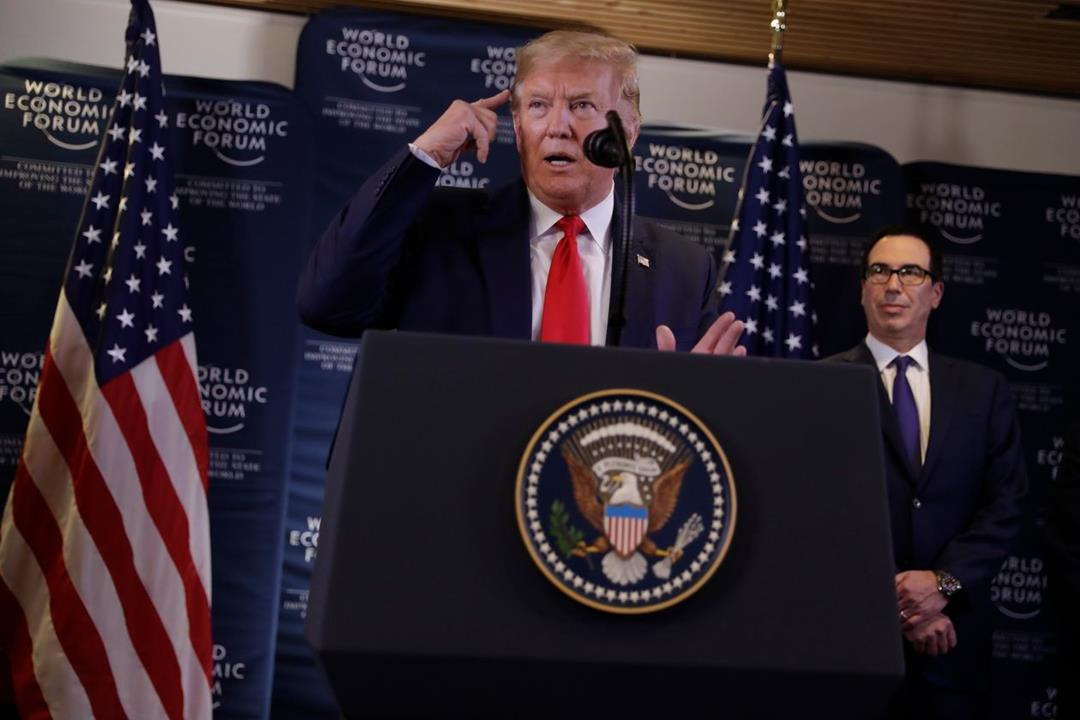 PHOTO: EVAN VUCCI/ASSOCIATED PRESS
President Trump said he hoped to clinch a trade agreement with Europe before the 2020 US presidential election, promised overhauls of the WTO and signaled concern over calling witnesses at the Senate impeachment trial.
The Context: Trump had earlier expressed confidence that the US would reach a new trade agreement with Europe, arguing that leaders in the region have "no choice" but to make a deal amid the threat of auto tariffs and that investors shouldn't panic.
UN Calls for Probe in Hacking of Bezos' Phone
Two UN officials called for further investigation into the alleged hacking of Amazon founder Jeff Bezos' phone in 2018 by a WhatsApp account associated with Saudi Crown Prince Mohammed bin Salman. Experts said this suggests an attempt to influence news coverage of the kingdom by The Washington Post, which Bezos owns.
The Background: The officials said the hacking took place in May 2018 and continued for months, around the time of the murder of Washington Post columnist Jamal Khashoggi in October 2018.
New Diesel Charge Hits Daimler Profit
Daimler shares fell after it reported a near 50% drop in earnings last year and warned that it would take up to €1.5bn ($1.7bn) in additional charges, further impairing profits, in the wake of investigations into allegations that it cheated on diesel emissions.
Why This Matters: The earnings report is a fresh blow for the company, which is struggling to boost profits, faces criminal investigations and shouldering high investment costs in electric vehicles to meet Europe's timeline for cutting CO2 emissions.
Political Turmoil Triggers Slump in Italian Assets
Italian assets slumped as fresh political uncertainty threatened to hamper the troubled economy. The yield on 10-year government bonds climbed to the highest level since August in intraday trading, before easing down. Shares in Italy's biggest banks fell.
The Context: The expected resignation of Luigi Di Maio, the leader of Italy's antiestablishment 5 Star Movement, ahead of regional elections this weekend, has soured some investors on Italian bonds, which are among the few in Europe offering attractive yields.
Former LSE Boss Xavier Rolet Steps Down as CEO of CQS
Xavier Rolet, the former head of London Stock Exchange Group, is stepping down as CEO of investment firm CQS to become a strategic adviser to the firm. The firm said Rolet is taking the new role for reasons unconnected with the company.
The Context: With Rolet's appointment, CQS had been trying to manage larger pots of money and expand beyond its hedge fund roots. The firm doesn't expect a change in strategy, said a person familiar with the matter.
Xerox to Nominate as Many as 11 Directors to HP Board
Xerox is preparing to nominate as many as 11 directors to HP's board, according to people familiar, in an aggressive move to push a $33bn unsolicited takeover bid. Xerox in recent weeks bought a small HP stake, which gives it the right to nominate directors for elections, the people said.
Why This Matters: Xerox hopes the move will put pressure on HP to negotiate a deal, which it so far has refused to do. Should there be a vote on the nominees, it could serve as a referendum on the proposed deal and install a slate of directors more favorable to a takeover.
European High-Yield Bond Rally May Be Over-Hyped
Risky European corporate bonds have rallied hard since December. But the sharp gains are prompting speculation that there may be too much hype in the European junk-bond market.
Why This Matters: Investors globally have jumped back into a range of risky and volatile assets in the past few weeks. This suggests a rush for returns at the start of a year when many expect little change in economic growth or central-bank policies and less political uncertainty.
Money Managers Venture Into Risky World of Trade Finance
Money managers including Allianz and AIG have found a window of opportunity to enter the business of financing international trade, long the domain of banks.
Why This Matters: This signals a potential revival for growth in global trade. Asset managers say trade financing pays attractive returns compared witMarkets Today
US stocks rose, boosted by a rally in shares of technology companies.
IBM shares rose 3% after the company unexpectedly reported a slight rise in Q4 revenue yesterday, ending a streak of declining sales.
Tesla shares advanced 8%, heading toward a fresh closing record, after a Wedbush analyst boosted his price target for the stock.
Shares of Italian banks fell, with Banco BPM dropping 3% and UniCredit losing 3.3%, amid fresh political uncertainty.