Senate Approves $2 Trillion Rescue Deal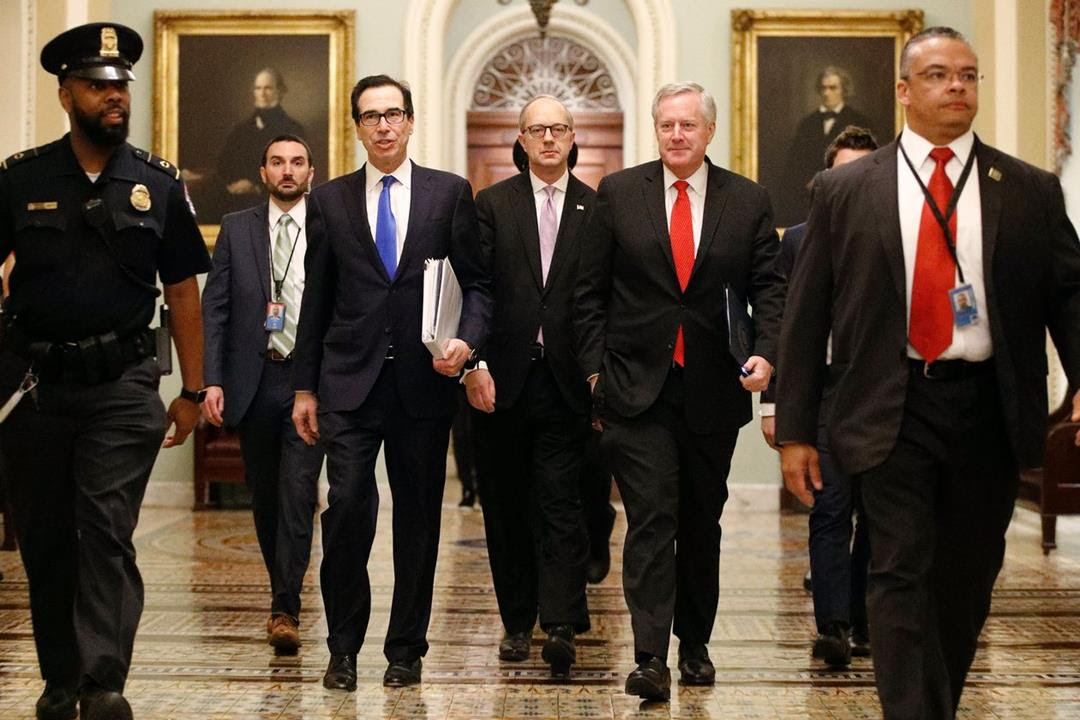 PHOTO: PATRICK SEMANSKY/ASSOCIATED PRESS
The Senate approved the largest economic stimulus package in recent memory, moving the estimated $2 trillion bill to the House as Congress seeks to give American families and businesses a financial shield against the ravages of the new coronavirus pandemic.
The Context: Republican lawmakers protested the unemployment provisions in the bill, and Bernie Sanders said he would slow the bill if the group of Republicans didn't relent, creating a high-stakes standoff in the final stages of the negotiations.
Global stock markets were mostly lower as investors weighed new developments related to the coronavirus pandemic, and looked ahead to the release of US weekly jobless data.
Analysis: Volatile stock markets reflect investors grappling with a lot of conflicting information, said Vikas Pershad, portfolio manager at M&G Investments. "The markets are not broken. What we're seeing is a very large disconnect between the present world and the future that they're pricing in," he said.
Ackman Wins Big on Bearish Market Bet
About a month ago, William Ackman laid out $27m to protect his portfolio against a precipitous drop, buying credit protection on global corporate bond indexes. On Wednesday he told investors in Pershing Square he had closed those hedges, generating $2.6bn in proceeds.
The Context: The outcome represents a dramatic turnaround for Ackman. Between 2015 and 2019, his private fund shrunk by roughly $9bn as a result of big bets gone awry and redemptions from his investors.
Theater Chains at Risk of Default
The shutdown of movie theaters world-wide due to the coronavirus pandemic has put cinema owners at heightened risk of default if they are unable to reopen in several months or secure a financial lifeline.
The Context: The rise in Covid-19 cases nationally has choked off revenues to the theater industry as more cities and states follow the example of New York City in closing movie theaters to contain the spread of the virus.
Coronavirus Cybersecurity Fallout Might Not Be Felt for Weeks or Longer
As millions of US workers frantically pivoted to remote work last week, putting new strains on their computer networks, federal officials warned that hackers smelled blood. But the fallout from coronavirus-related breaches may not become clear for weeks, months or even longer, experts say.
Why This Matters: Overstretched IT teams might not be able to keep up with updating their networks, experts say, while nonessential businesses that have effectively closed shop could prove to be easy targets.
Virus Wreaks Growing Damage on Italian Shipping, Supply Chains
The coronavirus pandemic is taking a growing toll on Italy's maritime sector as traffic at the country's ports slows and lockdown efforts undercut trade connections with the rest of the world.
The Context: Italian shipping had just started to emerge from years of painful restructuring, a recovery industry officials say now may be halted. Port officials across Italy say activity at the country's container terminals has slowed down, with some operating at 75% capacity as many workers are staying home.
The Stoxx Europe 600 fell around 1.6%.
US stock futures fell, with securities tied to the S&P 500 trading 1.7% lower.
Japan's Nikkei 225 lost 4.5%, giving back some of the previous session's gains.
The yield on the 10-year US Treasury retreated to 0.802% from 0.854% yesterday.
Crude oil futures fell.
Follow real time market moves and create your own watchlist on the WSJ City app.
US Q4 GDP and weekly jobless claims data is expected at 8.30am ET. The Bank of England's latest rate update is slated for 8am ET.
(Visited 21 times, 1 visits today)